Requirement:
The filter should be extended to find even more accurate search results.
Procedure:
Extending the filter
The filter can be extended by clicking the Filter(1) button on the ribbon, then click on Edit Filter(2).

You have the option to add more filter groups.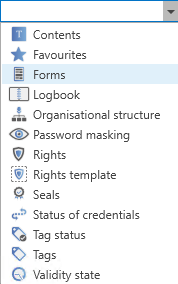 Select a filter group (1). Add the filter group (2) and finish editing (3).

The filter can now be set and confirmed with Apply filter.
Applying the filter
after closing the edit mode, you can filter by your new category (in this case) to filter by favourites.